About our oil
The olive orchard at Jandra is about 20 years old. It has been owned by the Buchanan family since 2015. There are some 750 trees, predominantly frantoio.
Previously we have onsold our crop to another orchard. Since 2021 we have managed the harvest and the subsequent oil ourselves.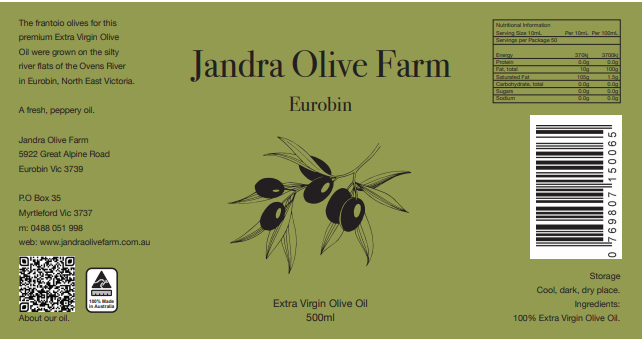 The harvest is in late autumn each year. Interestingly, each year our olives ripen here in Eurobin about 2-4 weeks later than in Melbourne. The olives are mechanically harvested and then processed into oil overnight.
Freshly pressed new oil can be spicy and even hot to the palette. In 2021, because of the later harvest, the more riper olives have produced an oil that has a more mellow, buttery taste. When its fresh its a changing experience each time it is tasted. The spicy, peppery kick mellows over the subsequent twelve months, becoming much smoother and more subtle in its flavours.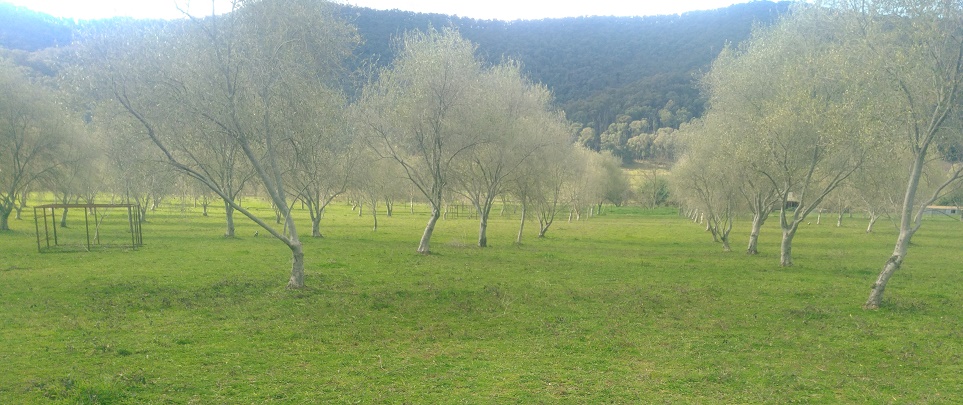 In 2021 we had a bumper crop, and in fact didn't get to pick all the available olives. On top of that, the later pick gave us a better percentage of oil than usual....so we have had plenty of oil to sell!
And it turns out it was also of a very high quality. In the 2021 Australian Golden Olive Awards it received a gold medal, best in class, best in show and we were named best new producer! A few weeks later we received another gold medal in the Australian International Olive Awards.
In 2022 we have just finished our two harvests. Again, we have a fiery green oil with a buttery middle palate. Its too early to have lab tests to hand, but I am optimistic we will have another great oil on our hands.
This year we have broadened our produce offerings. You can now try our freshly pressed, unfiltered Olio Nuovo, a chilli-infused oil, and a ready-to-go balsamic vinagrette. We ware also making contognata, (quince paste), for cheese platters.
We will also be supplying table olives this year.

If you would like to try the oil, it is stocked by:
Porepunkah
Punkah Pantry, 3 Nicholson Street, Porepunkah.
Ringer Reef Winery, 6835 Great Alpine Rd, Porepunkah
Bright
The Peaks Artisan Cheesemakers - Tasting Room and Petite Providore. ,Shop 5, 4 Ireland street (in the arcade at the top of the main street).
Alpine Visitors Centre Bright , at 119 Gavan St, Brght
Myrtleford
Myrtleford Visitor Centre , inside the Alpine Gate Café, at the corner of Great Alpine Road and Clyde Street, Myrtleford.
Wandiligong
Nightingale Bros Alpine Produce orchard and store. 708 Morses Creek Rd, Wandiligong.
And if you purchase a gift hamper from Alpine Valleys Fine Foods you might find some of our oil in their beautiful hampers.
For biosecurity reasons we do not do door sales.
We do have an > online shop and we are happy to ship the oil out. Postage costs mean you are better off buying from one of our local retailers if you are visiting the area.