Harvest results 2022
Posted on:

18 May 2022

By:

MrWurster
This is only a partial harvest report. Still waiting for more detail to come in.
The basics are: we picked the most we have ever done...29 fields bins, which represents some 14+ tons. Once you delete the waste...sticks, leaves, one million insects, and deduct the weight of the field bins themselves, the net result is probably around 13 tons.
From that we returned approximately 1600 litres of new oil. That in itself is an estimate. I supplied containers to take about 2800 litres, but we only needed the 8 x 240 litres bladder drums. But none of them are full, so I am estimating 200 litres in each. On paper that's only about a 12% return, which is poorer than usual. Last year was a freak and we returned 20% on top of a big crop, so my tattslotto-brain assumed we would be doing the same this year...but more. I'll wait until I get the report back from the crushing plant.
The oil itself is great. I bought a green oil from another orchard online to use as a test/comparison, and I am confident mine holds up well against it.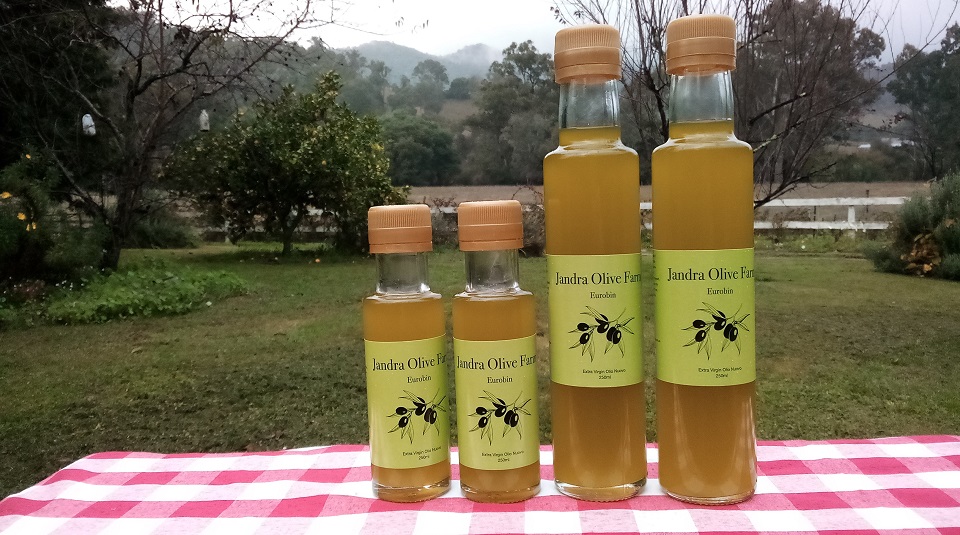 We are trying to sell the green oil this year. Its only new oil for a short time. After that its still 100% extra virgin olive oil ( lab testing confirmation pending!). but its no longer the milky green, creamy fluid that defines new oil. So the trick is to get it out to our retailers now! I was out today dropping off sample bottles and taking initial orders. We only sell and supply locally, so its not too much of a stretch, but its still a tiring process.
We are selling it online via a shopping cart, but given our low footprint I expect that might take another year to take off. Certainly we won't sell much of our new oil online this year.
We had almost no machinery problems this year, which is what haunted the harvest last year and stopped us from picking the whole place. This year in the two days we shook all but 60 trees. Its a strange thing...there are rows of trees that are huge, and heavily loaded with more than 70kg of olives. Then the next row, planted at the same time, is dwarfed in size and produces maybe 10kg per tree.
What was good to see was the ruthless donut-ing pruning I have done over the last two years is starting to pay off. The trees that are two years pruned have a lot of growth, but in a concentrated core ring that drops straight into the shaker net and no overflowing over the sides. The short branches vibrate more effectively, and we get a higher dump of fruit with little remaining in the tree. So although the canopy appears to be smaller, the actual output is quite good. Which means, if course, I need to lift my game and prune more, harder, more often.....I'm tired just thinking about it.
The upside of some of the fruit remaining behind is that there is something to pick in four weeks, that hopefully will be lusher and more mature that the fiery green oil we got from the early pick. But I've pared back my original booking of another two days and we will do what we can in one day. In one day I can get the unpicked 60 trees, then revisit any of the big trees still holding onto their olives. It won't be anywhere near 13 tons, but it should be worth doing.